Deprecated
: Function get_magic_quotes_gpc() is deprecated in
/home/catsslvi/domains/betqm.pl/public_html/wp-includes/formatting.php
on line
4387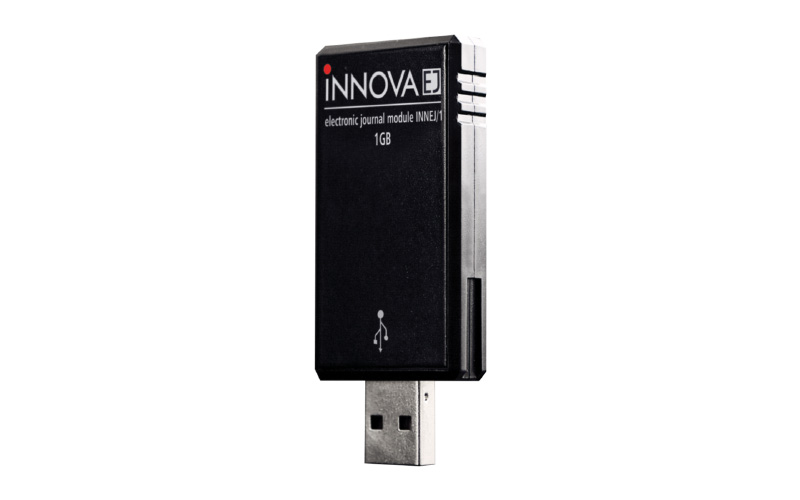 Moduł INNOVA EJ skonstruowany jest tak, aby starczał na cały okres użytkowania drukarki fiskalnej (5 lat) i był rozwiązaniem całkowicie bezobsługowym. Ponieważ nie ma już obowiązku magazynowania kopii paragonów w formie papierowej, głównym założeniem było to, aby od momentu zastosowania urządzenia z modułem EJ nie było konieczności magazynowania jakichkolwiek kopii poza urządzeniem. Dotyczy to również nośników informatycznych. Stąd wybór rozwiązania, które nie wymaga wyjmowania z urządzenia przez cały okres eksploatacji oraz stosowania wielu nośników do jednego stanowiska. Rozwiązanie to jest również bardziej opłacalne kosztowo, ponieważ redukuje koszt kopii paragonów do 0 zł (brak konieczności dokupowania nośników w przyszłości). W związku z powyższym urządzenia INNOVA SA nie wymagają szkolenia personelu w celu wymiany/obsługi modułu.
Dzięki zastosowaniu własnego opracowanego sposobu zapisu paragonów w module INNOVA EJ czas wydruku raportu dobowego wydłuża się tylko nieznacznie i dochodzi do ok. 30 sekund w przypadku dużego zapełnienia modułu EJ. Ponieważ czas zapisu jest tak szybki nie jest wymagana praca/zapis "w tle". Dzięki temu wyjęcie modułu INNOVA EJ (w razie potrzeby) nie ma wpływu na pracę urządzenia.
Moduł INNOVA EJ nie jest standardowym nośnikiem i nie nadaje się do wykorzystania w innym celu niż kopia elektroniczna do drukarki INNOVA. Nie ma możliwości ingerencji, skasowania czy nagrywania na nim danych. Oczywiście jest on zabezpieczony przez niepożądanym wyjęciem, ale jego specyfika czyni go nieatrakcyjnym dla ewentualnych niepożądanych osób.
Moduł INNOVA EJ umożliwia dostęp do zapisanych na nim kopii paragonów. Zastosowanie jednego modułu na cały okres użytkowania umożliwia dostęp do dowolnych kopii paragonów (z dowolnego okresu). Dostępne są trzy sposoby dostępu do kopii paragonów:
– Poprzez menu drukarki możliwe jest wydrukowanie dowolnej kopii paragonu na mechanizmie oryginału
– Dzięki zastosowaniu standardowego złącza USB istnieje możliwość podłączenia modułu do komputera (po wyjęciu z drukarki) i odczytania zawartości przy pomocy bezpłatnego programu dostarczonego przez INNOVA SA.
– Wykorzystując złącze USB drukarki można pobrać dane poprzez sieć komputerową sklepu nie przerywając pracy kasjera.